2022
2022-10-06
Shue Yan obtains a HK$15+ million research funding from Research Grants Council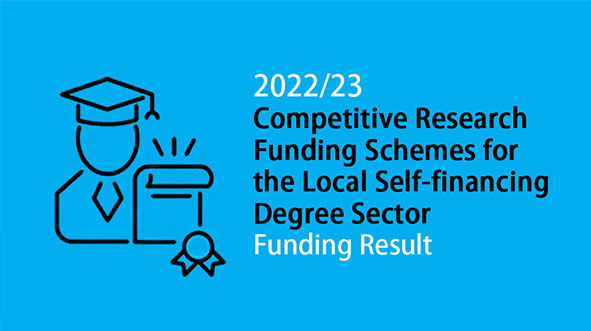 Hong Kong Shue Yan University (HKSYU) has been successful in obtaining HK$15 million funding for 8 research projects under the Research Grants Council (RGC)'s 2022/2023 Competitive Research Funding Schemes for the Local Self-financing Degree Sector, ranking the first by total amount awarded among all participating institutions. This year is also a very rewarding year for Shue Yan in which the University has received a more-than-double CRFS grant than the last year did.
Among the 8 successful research proposals, six are funded under the Faculty Development Scheme (FDS), two are under the Institutional Development Scheme Collaborative Research Grant (IDS(C )) ( see table).
All successful projects are in the "Humanities and Social Sciences" discipline aligning to the University mission in promoting digital humanities and reinventing liberal arts education.
Projects obtained funding from the Competitive Research Funding Schemes for the Local Self-financing Degree Sector 2022/2023
獲2022/2023年度本地自資學位界別競選研究資助計劃撥款的項目
Project Title
項目名稱
Principal Investigator
首席研究員
Funding Period
(Months)
Amount Awarded
(HK$)
FACULTY DEVELOPMENT SCHEME (FDS) 教員發展計劃
Hong Kong as the Pioneer Disseminating the Information on the West to the East: Retrace and Reinterpret the Intellectual Source for China's and Japan's Modernization in the Second Half of the 19th Century (UGC/FDS15/H01/22)
Prof WEI Chuxiong
(HIST)
24
657,900
Settlement towns built on the north-eastern steppe of Inner Mongolia during Khitan-Liao and their impact on Chinese history: A new inquiry on Touxia (UGC/FDS15/H03/22)
Prof YANG Ruowei
(CHI)
30
903,402
The effect of abnormal structural and functional resting-state connectivity in prefrontal cortex and increased exposure to traffic-related air pollutants on schizotypy (UGC/FDS15/H06/22)
Dr LAM Yin-hung
(C&P)
30
1,353,283
Quality transition strategies facilitating the transition from teenage to adulthood for persons with intellectual disabilities and their family carers(UGC/FDS15/H09/22)
Dr MO Yuen-han
(SW)
18
635,387
The interactions of L1 and L2 tonal systems in Mandarin-Cantonese late bilinguals (UGC/FDS15/H15/22)
Dr YANG Yike
(CHI)
24
835,558
Understanding the new solidarities and public roles of transnational Chinese Buddhist organizations by movement organization theory (UGC/FDS15/H19/22)
Dr HUANG Weishan
(SOC)
36
960,925
Sub-total of FDS projects:
$5,346,455
INSTITUTIONAL DEVELOPMENT SCHEME COLLABORATIVE RESEARCH GRANT (IDS(C))
院校發展計劃協作研究撥款
Mapping the grey digital divide and diversity in older ICT users post-COVID: A mixed-method research informing service and policy development (UGC/IDS(C)15/H01/22)
Dr LAU Hi-po
(C&P)
36
4,388,777
Human Resilience, Life Adversity, and Adaptation to Life Course Transitions from Early Adulthood to Late Middle Adulthood (UGC/IDS(C)15/H02/22)
Prof TANG So-kum
(C&P)
36
5,359,056
Sub-total of IDS(C) projects:
9,747,833
Total:
15,094,288
如欲查看中文版本,請按這裡。